Child Appealing MAX-JOY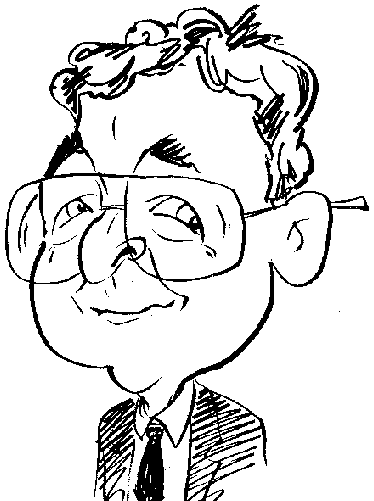 Review controls
Children like to imitate adults especially when it comes to fashion and accessories.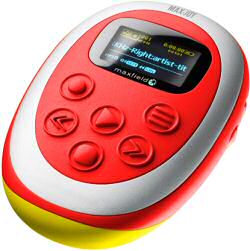 The early MP3 players could best be categorised as "Toys for Boys" rather than the popular status symbol they have become since the introduction of the iPod and similar devices. Now, however, it might appear that the MP3 player has come full circle with the release of the MAX-JOY. This is a MP3 player that has been designed specifically with young children, between the ages of 6 and 12 years, in mind.
This product has been developed by Maxfield, a German company that has quickly built up a reputation in its native country for producing feature-packed personal audio products. Delivered in a blue and orange cardboard cube, the MAX-JOY is constructed of plastic and re-enforced rubber. Ovoid in shape, measuring 80 x 56 x 26mm and weighing 50 gram, the MAX-JOY is decked out in child-appealing orange and yellow with a silver trim.
Buttons for power and volume control are positioned on the top and side of the unit while the front of the device features membrane controls for stop/start, fast forward/back, record and bringing up a menu. Although there is a lock switch to ensure controls are not activated accidentally, you do need to hold down the various buttons for a couple of seconds before there is any response. The front is also home to an OLED (organic light-emitting diode) display which provides feedback regarding mode, battery level, track information and the location of the current file. As well as music tracks, the MAX-JOY can play back stories and nursery rhymes plus be used as a voice recorder.
The device comes with 256MB of internal flash memory. This can be supplemented by the use of the SD/MMC card expansion slot. This is found in the battery compartment. While inserting a card is easy, the removal of the card is rather fiddly and probably best left to an adult. Memory capacity can be expanded up to 2GB.
Along with the build-in time delay before controls are activated, mentioned earlier, a number of child-friendly features have been included with this device. In order to ensure that young ear-drums are not unduly affected by high volume levels, there is an output restriction of 60DB while the supplied adjustable KOSS stereo headphone are extremely comfortable and do not put too much pressure on the ear. The product's casing should provide resistance to most child-encountered elements such as dirt, water and occasional impacts with solid objects. The unit is powered by a single AAA battery which should give up to 19 hours of play.
Included in the box are the previously mentioned MAX-JOY unit, headphones and battery plus a rubber shell case with waist-belt clip and a carrying strap. You also get a USB cable for connecting to a computer to transfer data to the MAX-JOY and a software disk with a driver for Windows 98/98SE users - later versions of Windows and Mac OS will not need the driver.
Young children should love this device with its reasonable audio quality while parent should appreciate that its toy-like appearance should ensure that it is not a target for others as has happened with the iPod. However it does appear a little expensive at the suggested price of around £48.