Watch & Care V120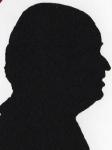 Review controls
How do deaf or hard of hearing parents manage to hear when their baby is crying? Something like this offering Amplicomms the people known for ultra-loud phones have produced this small module to allow them to see as well as possibly hear.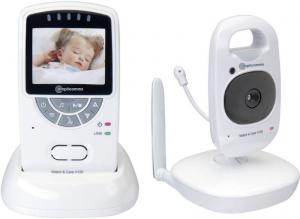 click image to enlarge
It consists of two units both small the first that can watch over the baby and for a hearing parent it is even sensitive enough to hear the child breathing as well as to let you see it over a Wi-Fi link. The second is the receiving unit that has a 4.5x3.7cm screen as well as a speaker.
The camera unit is 10x6x2cm on an 8x8cm base to keep it stable a small microphone is on a 5cm flexible arm.
The receiver unit is 12x7x2.5cm and even comes with a belt clip that means the parent can move around and get on with the washing up or ironing etc and still be able to know the baby is happy and safe.
There is a 52 page dual language (German and English) User Guide to explain everything in detail.
In the package are the camera unit, the receiver unit with a battery for the latter, the former runs on mains via a DC adapter and finally a charger for the receiver battery.
While most will think of this as a baby monitor it can be used to monitor anything so an invalid or even a sick pet.
If no power is available for the camera unit it can be run on four 'AAA' batteries (not supplied) and in the case of a darkened room built in infra-red (six sensors) can give a night image.
If light in the area monitored is poor or non-existent then the infra-red sensors kick in and the camera image will of course be in black and white rather than colour that works perfectly well when a night light is used.
The receiver has five brightness level so even those with less than perfect sight can see the image.
Most parents or carers know the ideal bedroom temperature for a baby and this unit has a sensor that can be set to off or show in Fahrenheit or Centigrade. If the sensor is on it will sound an alarm if temperature falls below 15degrees or above 25 degrees centigrade.
For parents who are totally deaf the vibration alarm can be useful to prompt you when there are sounds in the monitored room above a set level.
Other features in the unit include VOX which monitors voice levels and shows a light on the display, when the level has been exceeded.
It is possible to zoom in on what is being monitored and see the situation in detail. You can even set a lullaby to be played to settle the infant (five are available). There is an intercom feature to enable you to speak to someone near the transmitter unit and this is useful if someone is elderly.
Do not worry about being out of reception range as if this becomes minimal then you get a meson the display. While the first unit is automatically registered with the receiver it is possible to manually set a second camera for another area.
While I live in a bungalow it was possible for me to go down my garden so I found another use of being able to monitor sound such as the phone or door bell ringing and even set the camera to show the door to see who comes up my path.
These uses are far beyond the inted uses but if I can think and use these extra features during a review period others must be available. While I never got near to the 150 metres mentioned in the manual it did have the caveat that 'walls and doors' will reduce distance.
This seems to me to be a far more advanced baby monitor that in the first instance is for the deaf or hard or hearing but has uses for other situations.
I am told an additional pad to wake up the deaf or hard or hearing can be placed under the pillow and can be purchased as an option.
The Amplicomms Watch & Care V120 is available from the link below for £119.99 with free delivery.
http://www.amazon.co.uk/gp/product/B00C1AAW3M?ie=UTF8&tag=gadge0a-21&linkCode=as2&camp=1634
With the pad included its £130 from the link below.
http://www.actiononhearingloss.org.uk/shop/product-a278.aspx