Eton G2 Reporter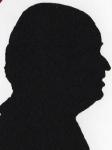 Review controls
Extensively it looks like a small to mid sized portable radio. However with all the bits this has inside its small frame perhaps 'Tardis' would be a better description. Not only is it a conversional radio but it can record and more.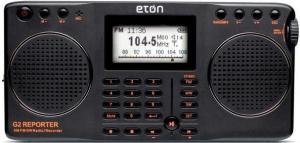 click image to enlarge
It is 19x9x1.5cm (without the seven piece rod aerial being raised) it weights 270grams so small enough to fit into a deep pocket.
As a radio it has stereo - unusual for such a small unit – the bands are FM, AM and SW. For me I found that I did not need to raise the rod aerial for FM.
You can record radio. It can record MP3 or WAV by using the inbuilt microphone or by attaching an external microphone with a 3.5mm end. Here there are options it can record in MP3 format 96mbps or WAV format 129mbps. For external recordings either from the built in or an external microphone you can record in 64mbps WAV, 129mbps WAV or 128mbps VOR format.
The unit comes with 4GB or flash memory and you can also insert a micro SD card if you need more. The examples given in the manual are that the internal 4GB memory will store 68hours of 129mbps WAV or 215 hours of 96mbps MP3.
All externally recorded files are stored in the voice folder and are given sequential numbers. MP3 files are stored in a music folder. While I see why an external microphone can have uses the internal microphone is quite sensitive and you have separate recording and replay volumes available.
To give you some idea of the various things this can do, Time Set, Date Set, Calendar, Alarm, Backlight, Language, Sleep Timer, Power off when not in use, Screen Contrast, Memory Info and more and for good measure it can be used as a book reader and you can set auto page rotation to suit your reading speed of choice.
The screen is 4.7x2.3cm and I think to call it a book reader is a step to far but for someone it may be a useful feature.
It comes with a solid battery that can be recharged from USB.
Now deep breathe before I cover all the units' controls. The 28 pages of the Owners Manual in English will certainly be well used while you familiarise yourself with the unit. The left side has a wrist strap anchor point, external microphone input, mini USB (for charging), lock radio button. The right side has the all important jog wheel that allows you to scroll through the numerous menus and then push it to make your selections. 3.5mm jack for headphones/earbuds and a 3.5mm jack for auxiliary input. The former is black the latter silver so you should not confuse them. The back has a prop stand and behind this the solid battery is inserted. The 85cm seven piece rod aerial stores alone the top of the back. Any micro SD card is inserted in the bottom.
This leaves the front above the left 2inch circular speaker are on/off microphone – and microphone + buttons are well as the inbuilt microphone. Next is the 4.7x2.3cm black on white display under this are four columns of five buttons with a gap between columns four and five which has a larger play/pause button. To the right of this are four more buttons Radio/MP3, volume -, volume + and escape buttons.
There are 50 presets for FM/SW and 25 for LW. When listening to radio the display will lose the white backlight after a preset period and revert to black on grey. The top line shows band, time and battery state. The second and third line display frequency in larger characters with several small icons filling the rest of the lines. Finally the forth line shows a representation of the waveband 88-108 with a marker showing where you are.
I am not sure AM or SW are that popular in the UK anymore but this radio can be used anywhere. It is available from the link below for £99.95.
http://www.nevadaradio.co.uk/portable-radio/analogue-portable-radios/eton-g2--reporter