Filofax iPad Air case

The Filofax Metropol iPad Air case is a well-made zipped case in black faux leather. It has been designed to accommodate both the iPad and an A5 sized notepad and should suit the person on the move.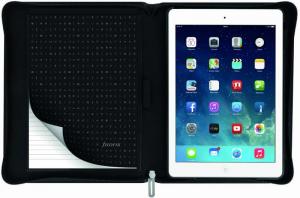 click image to enlarge
It is well-padded case and is supplied with a replaceable (portrait orientation) A5 pad with ruled micro-perf pages. It has a zip closure running around three sides and is220 x 265mm overall. When opened, there is the rotatable table t holder one side and a number of internal pockets on the other. A pen holder is located in the centre. The design is such that that the iPad can be on either the right hand or left side and the case can even be folded back on itself so that one can hold the case in one hand while using the other to write on the notepad or manipulate the iPad.
In addition, the tablet holder is hinged so that the case, overall, can act as a prop stand with the tablet turned to be in either landscape or portrait orientation. This is quite useful if one is spending quite a time sitting at a desk while browsing the web.
The smaller elasticated pockets are ideal for business cards and similar while the larger one will accommodate A5 (or A4 folded) papers. In addition there is a slot into which the cardboard back of the A5 pad can be inserted. Although the pockets have limited capacity, being elasticated, it makes it more difficult for items to fall out. While the company's web site suggests that one of the pockets is suitable for a smartphone, this does not seem to be of major use. After all one needs to be able to hear an incoming ringtone and be able to answer the call without having to struggle to open the case.
The choice of a case for one's iPad is a very personal matter so no single design will suit everyone. However, the Metropol iPad Air case creates a good business-like impression and, being padded, it will provide a useful degree of protection to one's iPad. It is easy to carry about and offers the added convenience of having the iPad, a paper notepad and a pen etc. all to hand. At £30 from the filofax.co.uk web site it does not seem excessively priced for the convenience that it brings. I could not, however, find the cost of the replacement Filofax-branded A5 notepads for this case on the company's web site.