Ideal Christmas Gifts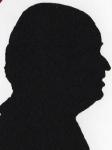 Two rather different items that would make ideal Christmas presents the first for a young child Junior Classic Games for the Nintendo DS. The second a novel shopping bag holder with an undoubted plus for an older person.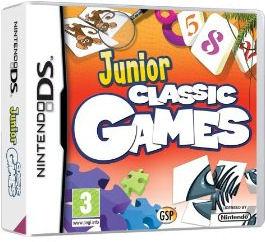 Nintendo DS Junior Classic Games
This is a collection of no less than 30 games for the younger child. Might I say an ideal way to keep a child of a certain age occupied over the Christmas and New Year period so is this the ideal Christmas present?
Stated as '3+' but inside it gives a range from four to nine years, or rather the difficulty can be slanted to suit various ages. This is sub titled Animal World and once past the front screen you get a cartoon monkey offering a choice of six icons.
The first is a musical note and a grey fox offers you a further choice of three icons. The second a set of cogs has a fish (surely a strange choice for memory) offering you a choice of six icons.
The third a pair of glasses has an owl offering you a choice of nine icons. The forth letters has an Elephant offering you three different icons.
The fifth a jigsaw piece has a Panda offering you a choice of six icons. The sixth and last a star has what is either a hippo or an ape offering four icons under the banner of Miscellaneous Games. Now unless my maths are wrong I make that 31 and not 30 games. Still maybe a bright five year old will discover that for him or her self.
When you start a game you select a level of difficulty of either one two or three star according to the player's ability. The level does make a difference and a one star game is a lot easier than its three star equivalent to play.
There is an Instruction booklet with ten pages in English but in a lot of cases it will need the elder sibling or parent to read it. It gives a brief description of the six categories much as I have done in the text above, so the child knows the type of game.
Doing my Internet searches found Nintendo DS Junior Classic Games at a best price of £14.99 from the first link below.
http://www.amazon.co.uk/gp/product/B001W0Y62A?ie=UTF8&tag=gadge0a-21&linkCode=as2&camp=1634
http://www.avanquest.com/UK/software/junior-classic-games-ds-126831?meta=play&cat=casual-games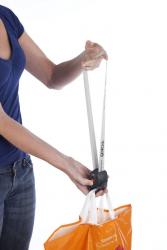 click image to enlarge
Yoke Shopper
I have seen a similar thing before but that was just a piece of plastic for you to hook several plastic bags together to stop heavy shopping digging into the hands while you carry it away from the shops or supermarket.
This is somewhat different in that it is still a clip to hold several bags plastic or otherwise providing they have a thin handle but having grouped them together instead of you still having to hold the items in your hand it has a built in 60cm strap on a ratchet that you can place over a shoulder to allow that to carry the weight and perhaps best of all you still have you hand free for other things maybe that strangely shaped parcel.
A press on the orange button on the side and the strap immediately returns into the casing and you can return the Yoke to your pocket or larger purse. An unusual item that in its own way you say why did someone not invent it before?
The Yoke Shopper is available for £9.99 from the company's web-site : http://www.yokeshopper.com/