A New Hovercraft on the Block

A new Washington-based company is selling kit hovercrafts of unique design. The new hovercraft design fixes a few problems that have plauged the industry for years, and opens the door for families and students to build an amazing friction-free craft.
A new kit hovercraft is now available from Father Son Projects, LLC. Hovercrafts have been around since the 1950s, but kit builders have been plagued with three major problems that have kept hovercrafts mostly out of sight for the past half century. Father Son Projects (FSP) has tackled these problems and is now selling their easy-to-build kit at www.fsplimited.com.
Hovercrafts are famous for being virtually friction free. They accomplish this feat by riding on a pressurized cushion of air that lifts the craft just off the ground. It's like a giant air hockey puck that you can ride on! To contain this pressurized air cushion and release it evenly, a hovercraft uses a rubbery skirt that wraps around the craft. Traditionally, kit hovercrafts had a skirt that acted like a single tube which was inflated by the craft's lift engine or air blower. This kind of skirt was difficult to install; requiring hundreds of special screws to attach it, plus mixing of chemicals to glue it on. If the skirt was damaged, it had to be completely removed and redone. This wasn't just difficult, it was expensive. This design would also deflate if the lift engine died, reducing the hovercraft's buoyancy on water.Some hovercrafts would even sink in this situation!
FSP's hovercraft uses a "dual tube" design that is not only incredibly easy to install (just glue it on), but also easy to repair and replace. If a tube gets a hole you just pull it off and replace it. The tubes are always inflated as well, making the hovercraft more suitable for fishing or as a swimming platform (although it is pretty tipsy and much slower on water).
This design has also been found to be extremely durable. The skirt was undamaged after testing the hovercraft on pavement at speeds over 30MPH. It truly is friction free. The other major hurdle FSP has overcome is reducing the complexity of building a duct for the propeller that drives the craft. Ducts keep the air from slipping off of the propeller tips as it spins, which causes a loss of thrust. However, ducts become detrimental at high speeds and actually produce more drag than thrust. That is why airplanes don't have them.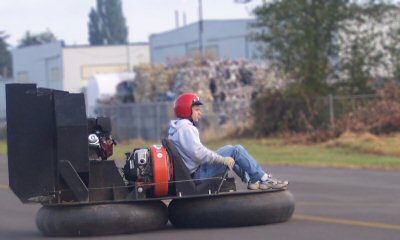 So instead of having their customers form a perfectly round duct that is within 1/8th inch of a propeller spinning at over 3000 RPM, FSP designed their easy-to-build propeller guard. It keeps the spinning propeller out of reach, and adding a 389cc engine devoted solely to thrust provides the operator with plenty of acceleration (and adrenaline).
Traditional hovercraft kits required their builders to finish and balance their own propeller. This was generally considered to be the most difficult task in building the kit and discouraged many people from ever trying. Purchasing a finished propeller was either not an option or cost extra money. Builders were left to settle with a nonprofessional prop and a frustrating experience. But FSP has partnered with a professional propeller manufacturer that has been making props since 1961. The beautiful 38" hardwood prop is laminated with a Class 1 waterproof resin and coated with a polyurethane coating designed to withstand the harsh environments of aviation. Just receiving this beautiful propeller in the mail is exciting!
While FSP has made some large jumps in kit hovercraft technology, one of their best achievements is their focus on education and family fun. The kit is designed to be an exciting, relationship-building experience for fathers and sons, not a frustrating task that will likely not get finished for many years.
FSP has also put together a free science guide with the hovercraft to facilitate an understanding of the principals behind the craft. It explores the workings of the 4-stroke engine, Bernoulli's Principal, Newton's third law of motion, and aerodynamic stability.
It is FSP's hope that their kit will find its way into high school science classes and home school curriculums. So if you're looking to make a memory, draw a crowd, or do some 360's, check out FSP's hovercraft at www.fsplimited.com. Plans can be purchased for only $10, or you can purchase the "Major Component's Bundle" for $1300 which includes a 13HP thrust engine, a 5HP impeller based air blower, a 38" professionally built propeller, and the plans.
If you're not interested in making your own parts these too can be purchased from FSP.
PS. They're also working on a jet propulsion kit!