Acer TravelMate P-653M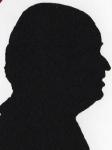 Review controls
After recently reviewing a couple of light offerings that had SSD to give rapid booting, its back to a larger business notebook but as its high end you lose that horrible shiny black screen surround that shows all the fingermarks.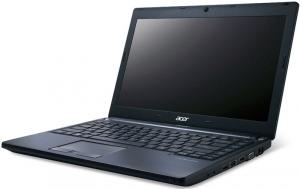 click image to enlarge
It is 38x24.5x3cm and weights just over 2.5kilos. It is dark grey apart from the area behind the keyboard that is a mushroom colour.
The 106 keyboard has full size keys – apart from the top line function keys – which have a nice feel when pressed. There is a 4.5cm strip behind the keyboard that has five well marked buttons in a line at the right edge. The area in front on the keyboard is a 9.5cm strip with the 10x7.5cm trackpad fitted 8.5cm from the left and 19cm from the right. The trackpad has a fingerprint reader built in between the left and right mouse buttons.
The viewable screen is 35x19.5cm which gives the notional 15.6inch imperial reading, it is also not very reflective meaning it is far more readable in strong sunlight. A webcam is built into the centre top of the screen surround. The default screen resolution is 1366x768.
The left side of the case has DC input, HDMI out, VGA out, eSATA and Express Card slot. The front has earbud and external microphone sockets, a multi card port and a slider switch to turn wireless on/off. The right side has three USB3 ports, a DVD multi drive and an Ethernet port. The rear is clear as the lid moves over it.
Without the use/aid of an SSD your boot time is 65seconds and shutdown is 18seconds which is about Par for Windows.
The processors here are Intel Core i5-3210 at 2.5GHz, you have 4GB of Ram and are running Windows 7 Professional 64bit version. The hard disc has 451GB on the 'C' drive with just over 36GB taken by various installations. Around 15GB does not show up as that is the recovery partition so the hard disk is actually around 466GB.
As always one of my first jobs is to update the operating system, less arduous than with some 37 updates on day one and 8 more on day two. In heavy use – lots of Wireless Internet etc – I got just on four hours from a full battery. The recharge time was two and a half hours.
Apart from Windows 7 Professional you get Office Starter 2010 (Word and Excel with adverts). I counted ten different Acer applets some you only get with higher end products. Corel WinDVD, Evernote 4.5.2, News Xpresso, NTI Media Maker 9 and Skype. Trial versions of Absolute Data Protect, McAfee and Norton Backup are also preinstalled.
While this is sold as a business machine I still expect it to be used for leisure activities such as viewing a DVD or three.
The Windows Experience rating is 4.9. This is made up of Processor 7.1, Memory 5.9, Graphics 4.9, Gaming Graphics 6.3 and Hard Disk 5.9.
I have heard whispers that a few USB2 and earlier items are unhappy being run in USB3 slots, this unit only has USB3 slots. I have tested several USB2 and even USB1.1 devices and all seemed to work correctly but note this if you have a lot of data stored on USB2 devices. I can only add that this has not ever been a problem for me.
The only thing I noticed was the slower boot up simply because of the two units I previously reviewed were SSD or SSD helped units. When I use my own notebook this unit seems extremely fast so everything is relative.
Doing my searches found the Acer TravelMate P-653M at £687 including delivery.
http://www.amazon.co.uk/gp/product/B008BSYTUU?ie=UTF8&tag=gadge0a-21&linkCode=as2&camp=1634