Keyboard and Mouse from Brando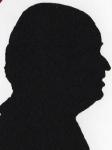 Of course the two items are not bulk standard offerings from this clever USB company in Hong Kong. First a keyboard that is compact and more and then a mouse small enough to fit in any pocket but big enough to work with.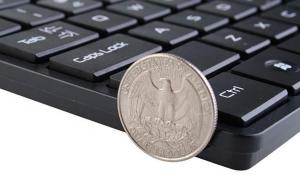 Slim Keyboard
This is slim in depth, width and height. It is 42.5x11.5x2cm and at the front it is little more than 1cm thick. This is a full key sized 110 key unit and only the top line of function keys are slightly smaller at only .6cm tall rather than being 1x1cm. As it is an international keyboard you get # where the £ sign is on the top row and of course " where the @ key is beside the enter key but with a UK keyboard driver the keys will still give what you expect them to.
Placed on top of my normal full sized keyboard there is 3.5cm clear at the side and 6.5cm clear behind my own keyboard peaks at 5cm. If required it sits comfortably on your lap and does not tilt or slip in use in this position. It has a 1.4metre long USB lead attached.
Unlike a standard keyboard there is nowhere for the crumbs to go as the key movement goes to the floor of the keyboard and there is nowhere for crumbs or spills to get inside the unit. Mine was white but they also do black and the whole thing keys and keyboard base has a soft rubber (silicon) type feel but typing on it is still a positive experience.
Available from the link below for $29 (US) plus $3 (US) post and packing whatever the size of the order.
http://usb.brando.com.hk/super-slim-keyboard-with-silicone-cover_p00949c034d15.html
Super Slim USB Optical Mouse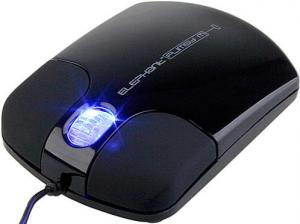 This is tiny and light. It is 6x4.5x1.5cm in fact at the back of the mouse it is little more than.6cm.
It comes with a 1.1metre USB lead and even that is very thin in fact place the mouse in it's protective drawstring bag and it weights only 30grams including the lead and USB plug.
Plug it in to any modern Windows PC and after a few seconds you are ready to work. According to the box it also works with MACs. For anyone using a notebook that dislikes a trackpad this can be whipped out of a pocket or bag in an instant to allow you to work as you would with a desktop in an office.
It has two finger sized buttons (2.2x1.6cm) for the normal left or right mouse button usage with an illuminated blue trackball button in between for rapid web page scrolling. The buttons are covered in a sort of rubber while the cogged trackball is clear plastic. My mouse was black but I see they also do white.
This is an optical mouse so any reasonably flat surface will do (not glass) so the red light that issues from the base can detect movement.
Available from the link below for $13 (US) + $3 (US) post and packing whatever the size of your order.
http://usb.brando.com.hk/super-slim-usb-optical-mouse_p00916c037d015.html