Two MP3 Players from Brando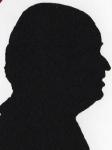 Not everyone wants - or can afford - an iPod. Here a fairly basic offering that looks rather like a USB stick and second a player for those who can't bear to be parted from your music even when swimming or taking a bath!
USB Tiny MP3 Player + micro SD(HC) Card Reader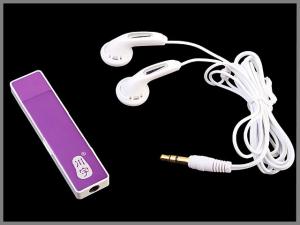 Normally items from Brando come with a manual in Chinese and English. Here only the former, I do not read Chinese. However there is enough information on the website (in good English) for anyone to use this item.
It is 7.2x1.6x.6cm the top pulls off and it can be inserted into any USB port, behind the connector is a port for you to insert and micro SD or SD(HC) card and on this you can copy any MP3 music of your choice to play.
You could also use this device as an adapter to allow any content from a micro SD or SD(HC)card to be read into a PC.
Using it as an MP3 has an on/off switch on one side and two rocker switches on the other, up volume and forward track on one and down volume back track on the other. There is a supplied set of earbuds and these fit into a 3.5mm jack on the top of the unit.
This unit is nothing special but does have the second use of allowing micro SD cards to be read without you having to search for a holder/adapter to insert the micro SD card in. Simple and ideal for the occasional MP3 user.
Available from the link below for $18 US plus $3 US shipping to anywhere in the world.
http://usb.brando.com/usb-tiny-mp3-player-micro-sd-hc-card-reader_p01363c031d15.html
Waterproof MP3 Player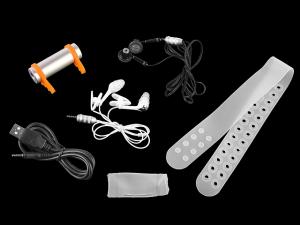 This gets round the language problem by putting all the information on a mini CD.
It is a cylinder 6cm long and 2cm across. One end has the ubiquitous joystick control layout as touch controls on black rubber. The other end has a 3.5mm slightly sunk in this is used both by the supplied earbuds and the USB lead to have the dual role of charging the unit (90 minutes charge give 480 minutes play) and then being used to output the music to earbuds.
You could use normal earbuds of headphones but not if you are going to use the unit under water.
For anyone using this swimming then a sleeve for the unit and an adjustable wrist strap are provided to keep the unit with you.
I have not tried it swimming but I did try it in the bath and deliberately used it at let it sink to the bottom while in use. It still worked even the next day after a good thirty minute dunking in water. The box does say not to be used deeper than one metre.
My unit came with 4GB of memory and its silver colour should help locate it if dropped. It should be able to be connected to Windows, Linux and MAC but I only tried it using Windows.
Available from the link below for $52 US plus $3 US p&p to anywhere in the world.
http://usb.brando.com/waterproof-mp3-player_p01442c035d15.html