Active Bodies and Minds for Active Kids - Indoors and Out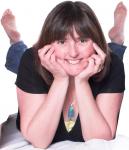 Never mind toys for the boys – keep them kids occupied whatever the weather. I've been having a look at some of the great toys out there for the kids this summer. Bearing in mind our lovely weather I've included a good selection of active toys for indoors as well as the great outdoors.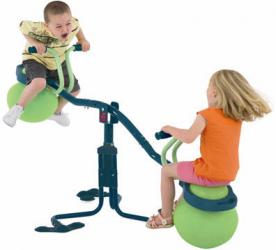 click image to enlarge
Spirohop from TP Toys
This is a fantastic playground toy which can be used both inside an out an ingenious combination of space hopper and 360 degree see-saw. The metal frame allows the Spirohop to go up and down like a traditional see-saw whilst going round and round like a roundabout. The space-hopper-style balls give that added bounce - and you'll get a bit of exercise pumping them up! With all the rain we've had this summer it's nice to see an active toy that's small enough to have indoors and easily moveable enough and durable for outside.
This product is suitable for 4-8 year olds,. The product is sturdy but could be challenged by the wieght of older kids - so keep it for the littl'uns. We found the Spirohop quite easy to assemble – our 12 year-old insisted on doing it and managed with little help!
Available from Amazon for just £64.99.
Balloopa from TP Toys
You remember swingball – here is the footbal version – a target hoop with a football on a string – saves having to run miles to fetch the ball!. Suitable for 4 years old and up, the Balloopa has adjustable height positions and an adjustable 6 metre teather. Great for kids to practice their football targetting skills with a pall, or for a kickabout on their own.
Great value at £19.99 from Amazon.
Toys from Wicked Vision – Great quality, value for money, indoor games!
Wicked Vision are a company backing some smaller products which will keep your kids minds and bodies fit whilst stuck indoors. I have to say I'm very impressed with Wicked Vision. All the products they sent for review were fun, great quality, value for money, and based on 'old-fashioned' games brought up to date for our techno-kids. With a range that starts at pocket money prices I'm very impressed.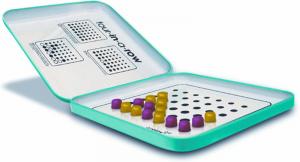 We've already reviewed already the Funkix a while ago – fun cloth balls which you can juggle, throw and kick indoors and out, with funky features such as kick counters and flashing lights! Funkix are available from Amazon from £9.95.
Ideal for travelling, these magnetic games come in a small and slim-line protective tin making them easy to slip into a bag and fun to use on long car journeys. All the traditional favourites are there – Four in a Row, Chess, Ludo, Hangman, Snakes and Ladders and many more. At just £5.99 these are fabulous. You can see the range here on the Wicked Vision website.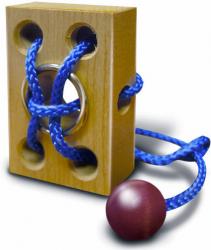 click image to enlarge
Another inexpensive item for hours or fun – Duncan Yo-yos start at just £4 and give that timeless game a new twist. The Duncan range includes automatic return yoyos (the Reflex) and light up yoyos (the Pulse) – both of these retailing at £9.99. I tried the Pulse and thoroughly enjoyed the weighted feel and the confidence that this yoyo would outlast other cheaper versions. Available from Amazon for £9.62.
Wicked Vision sent me a lateral puzzle called the Brain Bender. These are natty wooden toys with strings, a ball and a hoop – all entangled up together. The idea is to release the metal hoop. Have a look at the picture to understand how this works. My scientifically minded friend said "This will be easy" and not shortly afterwards claimed "Alright I have to eat my words" as he struggled to find the solution. I'm guessing these will keep adults and kids occupied for hours! There are 8 brain benders ranging from tricky to extreme. We tried out the Woodworm. Each of the toys retails at £5.99. They are a lovely quality toy for hours of fun. Have a look at the range on the Wicked Vision website.http://www.wickedvision.co.uk/goplay.html