Music For The Kids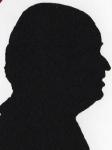 Here I am looking at two devices the first something that was around when I was a kid – Rolf Harris promoted it – and the second something rather new in style and design.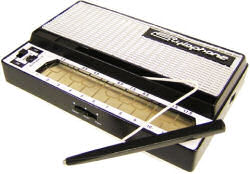 Stylophone
This has been around - almost since I was a kid - it was endorsed by Rolf Harris who first came to notice for his digery doo and not his paintings 'do you know what it is yet' those came a lot later.
This to me looks identical to one I saw very many years ago it is 16x10x3.5cm. I doubt the original had MP3 input or probably not a headphone output as I don't think 3.5mm jack plugs were around then.
It is an octave an a half but there is a three position slider that in effect gives you 4.5 octaves. I also don't remember the twist knob on the base that enables the tone to be twisted. There is a volume control on the right and while the child is learning a parent will probably wish it did not have an inbuilt speaker, but there is a good volume range.
To the left of the keyboard are the power switch and also a vibrato (sustain) switch. The manual is rather basic, it is ten small pages it goes from page six to page nine and then - in mine anyway - you had to cut along the edge to access page seven and eight for the two example tunes given.
I would have liked at least six more sample tunes as using the number notation both parents and pupils will soon tire of only two tunes. I noted Mr Fereday's comments about the build quality, mine was fine he must have got the Chinese equivalent of a Friday afternoon unit. This is only a basic tool certainly more of a toy than an instrument but of course a lot cheaper than even a recorder.
Doing my Internet searches found the Stylophone at a best price of £14.95 from the first link below.
http://www.firebox.com/product/1902?aff=1272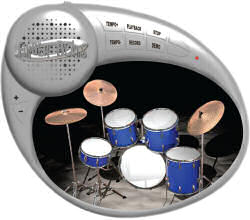 Finger Beats
This is a unit that you need a modicum of skill to play, or perhaps I should say to get a decent sound from that will not have everyone rushing to leave the room. It is 25x20x4cm and is in fact a range of beats and rhythms controlled on a number of small decks by fingers.
As the instruction sheet says '2 pumping sets of 8 sample beats to mix into thousand of different DJ tracks!'
Apart from what look like a range of mixer decks on the face there are six buttons above that are Scratch 1, Scratch 2, Playback, Record, Switch and Stop. The on/off button is on the back edge as are the mP3 input and earbud outlet sockets.
So a tap on any on the eight areas produces a sound or drum beat rhythm and this loops continuously until you either tap that area again or hit the stop or switch button. You can should your brain/ears stand it set all the eight samples goings.
When you find a sample selection you like you can then record your offering, as stated there is MP3 input so you can play along to your favourite music. If it still needs help then add in either of the Scratch buttons.
Doing my internet searches found Finger Beats Mixer at a best price of £15 from the first link below.
Both the Stylophone and Finger Beats Mixer are from Re:Creation see the second link. You can then download a .pdf catalogue to see everything they do.
http://www.red5.co.uk/Finger-Beats-Mixer-pr-246.html