Epson Inkjet 310N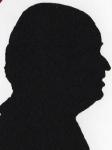 This is described as a business inkjet. It is reasonably fast but its big selling point is that the cost per page is less than 1ppp when printing in monochrome. Mind you every plus has a minus it is unlikely to ever pass the lounge police.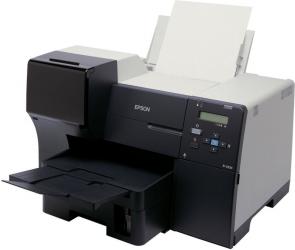 click image to enlarge
Someone being less than polite could call it ugly, a more polite statement would call it boxy. The Epson 310N business inkjet printer measures 47x40x30cm with the rear paper tray closed. Mainly cream in colour with a mid grey back panel and various dark grey to black shades at the front. However as no style icon myself I am not really the person to criticise colours.
There are two paper trays a built in one at the base that holds 500 sheets and a flip open near vertical one behind. The latter is stated to hold 150 but I would think of it only for letterhead – if anyone still uses such things – envelopes and photo paper.
One reason for the strange shape is the size of the cartridges which in term is the reason for the lower cost per page. I cannot think of any inkjet that offers 3500 pages per cartridge in fact a lot of laser toner offerings can't get to there.
You can connect this unit via USB or Ethernet and in fact using different PC's I used both only wireless is missing natively. It is not quite in action and no doubt the unit is likely to spend its time in a cupboard or at least behind a screen. There are a total of seven buttons just below a rather functional two line LCD display that is black on grey and rather difficult to read. However once you have turned the printer on you only need to go there to collect output.
As with most inkjets you get a choice of three print qualities but output looked very similar and there was only a small speed differential between modes. But I did my tests using the draft setting using my two print pages that I have always used. Nowadays manufacturers have to use the same ISO test pages I hope soon to get hold of them. I have seen thumbnails in a PDF file and the test one looks like a cross between my two pages.
My 200 word test page printed at 23PPM - which is faster than claimed – and my 1500 word offering spread over four pages printed at just a tad under 20PPM. Both were quite acceptable even in draft mode and as stated only slightly slower in normal mode.
As for photo printing you need to provide some software to do this and I deliberately chose a basic package for this as all I was after was speed and quality. An A4 full page print on photo paper took only 45 seconds, it was as good as those produced by dedicated photo printers. I also printed the very detailed PDF file that makes up the London Tube map and this came in only slightly slower at 48 seconds but of course the latter used Adobe Reader. Amazing print speeds, why oh why should this unit be hidden away as a business product?
As the only software provided by default is the printer driver, installation was quick and took only 50MB of hard disc space.
There are a whole range of web tools available that might be of use to various businesses available for you to use.
I have often wondered why inkjet cartridges are normally so small (or course manufacturers make money selling replacements whereas the original printer is often sold at cost or even below) here however it proves it is possible to have decent cartridge sizes and with the four ink four cartridge system producing mono pages at .93ppp and less than 4ppp colour anyone needing inkjet should seriously look at this offering from Epson for value.
Now if someone could redesign it to look pretty, give it better lines and reduce the noise it might be accepted in the lounge.
Doing my Internet searches found the Epson 310N at a best price of £210.91 from the link below.
http://www.amazon.co.uk/gp/product/B0037VKON2?ie=UTF8&tag=gadge0a-21&linkCode=as2&camp=1634
I found the Epson 310N available for $383.99 including free delivery from Amazon on the following link.
http://www.amazon.com/gp/product/B003A7SHGY?ie=UTF8&tag=gadge0a5-20&linkCode=as2&camp=1789
I found the Epson 310N available for €279,08 from Amazon on the following link.
http://www.amazon.fr/gp/product/B0037VQ8KU?ie=UTF8&tag=gadge04-21&linkCode=as2&camp=1642
http://www.epson.co.uk/Store/Printers-and-All-in-Ones/Epson-B-310N