CUE Robotics Amplified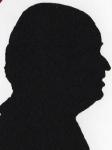 Often the time between product request and its arrival is extended as was the case here so when the box arrived I first thought – before I opened it – that it was a speaker and even when I opened it I was unsure, removal from the box did not require destruction, already a plus point with me.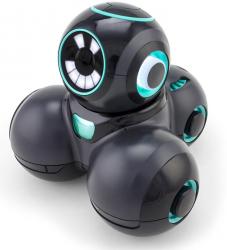 click image to enlarge
If you imagine three balls in a triangle with another on top of them you have the shape each is round at approximately 8cm, the two front units have grooved wheels and the rear one just a small steering option. The top unit lights up, revolves and has both the power of speech and hearing.
To remove from the box move two catches apart and then find a flat place to put CUE down as it goes through a quite amusing configuration routine, after that everything works with Bluetooth via an App.
While this is a toy it has 'AI' (artificial intelligence) and you can text it as well as interact in many other ways.
Sold as a tool for teaching children to code in schools but it is great fun even for those of us having had our 'three score and ten'.
Stated as for '11 Years Plus' I know children far younger than this could get a lot from it.
There are Apps available on iOS, Android and Kindle that work with CUE.
Looking at the 'Wonder Workshop' site (second link at the end) it seems CUE is part of a range of these devices.
CUE a range of avatars to give it a range of abilities, check them all out in initial tests before you decide as extra avatars purchased after your initial choice is made, cost extra.
The four avatars are CHARGE stated to be brave and compassionate but loves strategy sessions and haikus. ZEST who tackles problems with sophistication and style and is a smooth talker who stays poised under pressure. SMIRK a wisecracking instigator with plenty of charm who loves to game the system for a good cause. Finally PEP a thoughtful geeky adventurer who has boundless enthusiasm for learning new things.
So take time before you choose which avatar you choose as each has abilities for certain situations.
CUE can be coded with block or Java Script and that is probably why the age classification of 11 plus is given.
Whichever avatar you choose you will initially be wowed by CUEs initial ability.
A micro USB port is between two of its lower sections and a Micro USB to USB lead is supplied. The all-important on/off button is between another two of its sections.
It needs space maybe around a metre of so for its initialization and sensor checking after that it will need less space to work with.
When you send it texts it will reply in a witty way and it is possible to think you are interacting with a real person.
Full range of Wonder Workshop items are on the second link.
CUE is available from Amazon for £169.99.