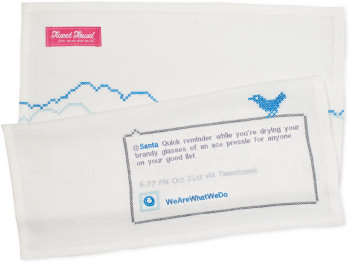 While the government works hard to spend millions of our pounds rolling out 50M broadband to the country there are still those areas where the Internet at a usable speed is still a dream. For those people Twitter is often still the noise made by our small feathered friends sitting in the trees.
If your friends or relatives fall into this category then here's a cool way of bringing them up to speed with the craze that is Twitter without even the need for a slow Internet connection. Apart from having much better geographic coverage than the Internet this solution to the twit-challenged this solution can go places that would make most Internet connected devices wither in fear - the kitchen sink for example.
What is this little wonder?
Ummm - well it's a towel. A "Tweet Towel" to be precise. A tea-towel embroidered with your own personal 'tweet' - a special message for your grandpa or a gentle reminder to your partner that washing up can be fun!
While this is a fun, novelty present idea for the technophobe that has everything (they want) - there is a serious side. Each of the special personalised Tweet Towels cost £10. All profits made go to the charity "We Are What We Do" which campaigns to close the gap between the older and younger generations.
Nick Stanthorpe from We Are What We Do ways
"The gaps between older and younger people are bigger than they've ever been and this is nowhere more striking than across the digital divide. There are 10 million people in the UK who are still offline and 46% of those are over the age of 65i. Yet, digital forms of communication make up 90% of how 11-18 year olds communicateii.
"There are now around 65 million tweets sent every day and more of that gigantic network could be used to increase contact and understanding between younger and older people.
"When more gets shared across generations, whether its internet skills or hand crafts, families and communities get stronger – and that's what the Tweet Towel and our current campaign is all about."
Well we can't argue with that!
You can order your personalised Tweet Towel by visiting this link!