That's what we have on offer in this months member prize draw. That's right - the new, vastly improved iPod Nano. Before the Shuffle came along the Nano was the baby in the family. It's growing up now. No longer limited to playing your favourite music, the new version does most of the things the big grown up iPod Classic can do:
Plays your favourite music (of course!)
2" 320x240 resolution screen - gorgeous according to Steve Jobs
Play videos
Play games - it comes with three pre-installed and you can download more from iTunes
Apples new user interface - making it so simple to browse your content
With all these new capabilities you're going to need more memory so the new Nano comes with a minimum of 4G bytes - the same amount as a DVD.
If you want to know more take a look at our round up of the new iPod family.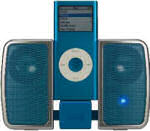 Sound interesting? We thought so. We've ordered one for this months members prize draw. It's silver with 4G bytes of memory. The draw is open to all GadgetSpeak members - and anyone that would like to join. Just make sure you're receiving our email updates and include your name and 'phone number in your profile. As long as you've done that - just log in at least once before the end of September and that's it!
As a special bonus this month we 're giving away three runners up prizes of the execllent Logic3 i-Station speakers - great for listenning to your iPod without headphones! Not got an iPod? No problem - these speakers use a standard jack-socket so you can plug in the MP3 player of your choice!