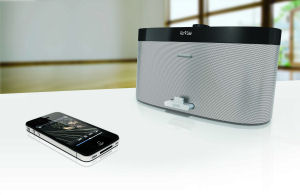 The ability to stream music wirelessly around your house isn't new. I've reviewed a number of wireless speakers in the past that connect via Bluetooth to a suitable device and hey-presto - wireless.
Bluetooth has limitations though - basically the source of music needs to be in the same room as the speakers.
Apple are looking to make things easier with their AirPlay technology. Rather than use Bluetooth AirPlay instead piggybacks your WiFi network. All recent Apple products come with WiFi and as long as you've gone through the pain of configuring WiFi in your house you can make use of the system.
Apple's part in the puzzle is providing the music source - iPad, iPhone, iPod or Apple Mac laptop or desktop.
You'll need some speakers of course. GEAR4 have just launched their AirZone product. This can attach to AirPlay and you can beam your music directly to the speakers from anywhere within WiFi range.
For those of you that don't want to attach wirelessly (is there really a point if you're in the room with your iPod?) then there's a traditional iPad/iPhone/iPod dock, built in FM radio and a line-in socket allowing you to play other audio sources.
RRP is £199