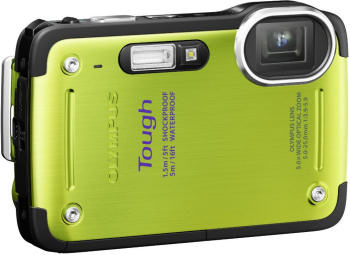 Actually most of us could probably do with something somewhat more rugged than many of the products on the market. Queue Olympus! This stalwart of the photographic industry has just launched the TOUGH TG-620 and TG-820 - which as well as being tough are available in a number of colours to match your wardrobe.
Both models boast a "shockproof, waterproof and freezeproof exterior" - I'm not sure why only the exterior - but I expect that suitably protects the internals as well. Given how cold it is here right now freezeproof seems a particularly attractive feature!
They also both provide a 12M pixel sensor - which is good enough for most personal photographic needs and supports full 1080p HD video capture for those that like to capture more than just a snap. If your hand isn't too steady the image stabaliser technology is also available in video mode.
The two models seem to be very similar with the 820 adding "more" : a stronger crush proof case, waterproof to a depth of 10m rather than 5m and 'drop-proof' from a height of 2m rather than 1.5m (for tall people?).
No viewfinder of course, as is standard these days with a 3" LCD screen displaying images and status.