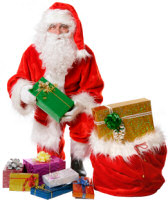 Thanks to everyone for joining in the fun with Christmas Cracker - it was a huge success for us and helped increase the number of members to the site significantly. Thanks of course to Photobox for sponsoring the crackers!
It is however now December, and for those of you that have been around GadgetSpeak for more than a year you'll know that means Santa's Sack time! Santa's Sack is our special advent competition to get you ready for the festive season. This year we've packed the sack with a wide variety of gadgety products with something to appeal to everyone.
With Day one drawing to a close all I can say is WOW - the number of visitors in this single day has beat the highest day we had in the entire Santa's Sack period in 2007 - so thanks to all of you that joined in the fun.
Want to know what all the fuss is about? Well we often run free competitions for members here at GadgetSpeak partly to encourage new visitors to join and also as a thank you to existing members. December is however the competition!
We have a sack of wonderful prizes that Santa himself would envy. For each of the first 20 days of December one prize will be drawn from the sack and awarded to one lucky GadgetSpeak member. There are hundreds of pounds worth of prizes to be won - and of course membership and entry to the competition is free!
Want to know more? Full details of santa's sack and all the prizes here!