This was Septembers Prizedraw! In case you were confused by the mix up in our weekly update, the prize for October is excellent Fujitsu ScanSnap S300 scanner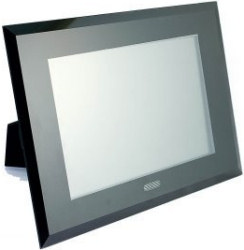 We run regular free-to-enter prize draws open to all UK resident GadgetSpeak members as a thank you for your continued support. You just have to remember to log-in once during the competition period and make sure you're receiving our really interesting weekly update emails

We haven't run one for a couple of months - the summer got rather hectic with holidays and enjoying the wonderful English summer!
To make up for that we have what we hope you'll agree is an excellent prize for September - a 10.2" digital picture frame from Polaroid. The lucky winner will be able to spend the long winter months looking at slide shows of smiling faces in the sun and be reminded that the weather does improve (ok - this year only for those of you that went abroad!).
As well as having a large crisp high resolution display this photo frame accepts a number of different memory cards to supplement it's internal memory. If you get bored of last years snaps then it will also play AVI video clips and even MP3 music for your entertainment.
If you want to know more then you can read Paul Smarts review here.
Want a chance to win? The draw is open to all qualifying members (free - just complete this form). If you are a member you have to login at least once during the month. Not logged in? Just click here! Remember to check the terms and conditions on the registration and log-in pages!