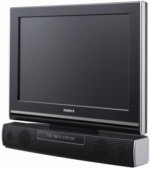 For those of you that got the newsletter (if not please do sign up - it's not that bad!) you'll have noticed we have a rather good prize lined up for March. Well March is here - and the prize is : the excellent Humax LGB-19DZT 19" LCD TV. Humax have some great products - we were very impressed a few months ago when we reviewed their hard-disk video recorder, the PVR9200 so we were very happy to take a look at this 19" TV and were pleased with what we found. Do take a look at their web-site if you get a chance.

You can read our review here. As is becoming the custom nowadays with 'switch-over day' already reaching parts of the UK, the Humax includes a built in Digital Freeview tuner.
One lucky member (you are a member - aren't you, it is free) is going to walk away with one of these excellent televisions. It can only be you if you're a member and you log into GadgetSpeak in March. You can join here.
Oh - and if you haven't already please take our short survey!
If you want one NOW then Humax have a great offer, exclusive to GadgetSpeak readers - a third off the prize. Think how good it would be to have one of these in the kitchen or bedroom!