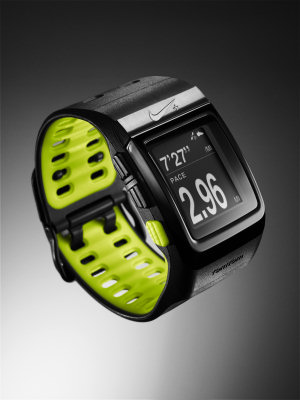 I don't think there are many runners out there that don't have at least a modicum of curiosity about the distance and the speed they manage to achieve. While I'm not a serious runner I do like to know how long I've been out, how far I've run and how I'm doing compared to previous runs.
Where there's a need of course there's a technological gadgety solution just waiting to fill that gap! Latest to come to the rescue of the curious runner is a partnership between Nike and TomTom to deliver their "Nike+ SportWatch GPS Powered by TomTom" - a bit of a mouthful but gives a pretty good idea of what they're delivering.
While there have been other GPS enabled running devices in the past these have tended to be somewhat 'chunky'. The fruit of this partnership however seems pretty sleek. And while some such products have an array of complex buttons that are almost impossible to navigate on the move this promises to be simple having only three buttons and a "tap screen" for navigation.
In addition to stopwatch functions and of course GPS capture of your distance and route the watch communicates wirelessly with a sensor in the Nike Shoes to give you accurate pace and distance information. The shoe sensor is optional so the other functions are available if you'd like to keep running in your existing favourite shoes.
Depending on your reasons for running and your level of geekiness the Nike+/TomTom watch can not only tell you how far you've run and how fast it can also tell you how many calories you've burnt - useful in this post-Christmas season.
Some people like to run just to keep fit which is really the category I fall into. As you'll appreciate though you soon get used to a distance or a speed and if you're not careful you can easily fall into a relaxed pace that I like to think of as 'plodding' - something I frequently find myself doing and out of which I have to shake myself! This Nike+/TomTom watch recognises this for you and encourages you to improve and push just a little harder by recognising 'Personal Bests' or as they call them "Attaboys".
One rather nice feature I like is that it recognises when you haven't been running for five days and reminds you to get your shoes on and get that heart beating!
Key features include:
Tap Screen for setting laps and activating backlight
Run History with data from past runs
Personal Records including those imported from Nikeplus.com
Quick Start with optional shoe-based Nike+ Sensor
Heart Rate Monitor compatibility
You can also upload your running information to the Nike+ web-site where you can maintain a record of your running history in a much more usable way than my current spreadsheet. If you're looking for inspiration you can also search for routes logged by other users in your area. Having just moved house this will be an interesting feature to try.
I'm hoping to give the rather exciting Nike+ SportWatch GPS Powered by TomTom a proper spin in the not too distant future. In the meantime it's a sunny afternoon and we don't get many of those this time of year in England so my own running shoes are calling to me!
Happy running!