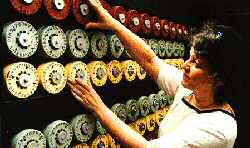 You may have read my recent blog about Bletchley Park and it's importance to the history of the gadgets we've all come to love. This wonderful icon of computing history is in very real danger of being lost to future generations. The plight of this monument to a secret war of wits has caught the imagination of a diverse team of intrepid volunteers - both individuals and organisations - from many sectors of society both in the UK and abroad.
Here's your chance to help and have a very enjoyable day out!
As part of this fund raising initiative one organisation, the ACCU, will be holding a one day fund raising conference at Bletchley Park : "Security: Yesterday, Today and Tomorrow" on the 7th November. All the proceeds from this informative and unmissable day will go to the Bletchley Park Trust.
The day will include talks by experts in the history of Bletchley, code breaking and cryptography.
In his talk entitled How the Germans gave away their "unbreakable" codes Tony Sale will describe how human operator errors enabled code breakers to decipher vital German messages.
Simon Singh, author, journalist and TV producer presents a talk entitled Cracking the Cipher Challenge. Simon published "The Code Book" containing ten encrypted messages and a £10,000 prize for the first person to crack all of them. Simon will discuss how he constructed the Cipher Challenge and how the winners eventually cracked those codes, using this as a framework to introduce a brief history of cryptography. Simon will also demonstrate a genuine Second World War Enigma cipher machine!
Phil Zimmermann came to fame as author of the PGP e-mail encryption package which, despite three years of government persecution, became the most widely used e-mail encryption software in the world. Phil will discuss his latest project "ZRTP" - bringing encryption to Voice over IP systems (VoIP) and will also touch upon the issue of living in a surveillance society.
As well as these stimulating talks held in the elegant Victorian Bletchley Park Mansion the day will also include a guided tour of the entire Bletchley Park site and will include coffee breaks and lunch. The day will start at 8:30am in the morning with the first talk provisionally scheduled to start at 9:30am. The day will finish with an opportunity to chat with both the speakers and other members of the audience, finally wrapping up at around 8pm.

Bletchley Park is very easy to get to being just across the road from Bletchley Park railway station which is on the line from London Euston through Milton Keynes and up to Birmingham.
The entire day costs only £95 (or if you're a member of the ACCU £85) which for anyone with an interest in the history of computing and cryptography is excellent value. And of course you will be helping to ensure the future Bletchley Park!
There are more details on the Bletchley Park web-site and you can buy tickets online from their shop.