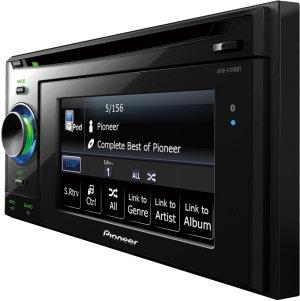 The latest in Pioneers NavGate range of in-car systems, the AVIC-F310BT provides GPS navigation, entertainment and communication into a single package. To deter those with light fingers Pioneer have taken a tip from traditional in-car stereo systems by making the front fascia removable, which can then be dropped into a bag or hidden somewhere secure in the car.
The detachable screen has another advantage though. Take it indoors and attach it to your computer via a USB cable and you can analyse your journeys via a downloadable PC application available from the Pioneer site. In these days of escalating fuel prices the system will even provide you with an 'Eco Report' - where you're driving style will be taken apart for you (scary for those with a heavy right foot!).
The system comes pre-configured with maps for 44 European countries, which Pioneer claim is ten more countries than other vendors. I've definitely lost track of the number of countries in Europe, I'm pretty sure I can't think of 44 let alone 34!
The display and main control of the system is via a 4.3" WQVGA touch sensitive LCD panel. In navigation mode this will provide you with optionally 2D or 3D route information complete with directions using street names.
Given this is Pioneer as you'd expect some considerable attention has been taken with audio quality. The built in 50Wx4 amplifier should provide you with clear, crisp and powerful sound, assuming you've equipped your vehicle with suitable speakers! As well as CD playback you can also attach your iPod or iPhone via a cable. As far as I can tell no support for Bluetooth A2DP profile though for other media which would have allowed standard support for a wide range of media players and phones.
Bluetooth support is included to support phone operation giving you a hands free operation and allowing you to leave the phone in your pocket.
Pioneer offer a number of car mounting options a number allowing you to simply replace your factory fit audio system with the NavGate.
Official price for this Pioneer NavGate AVIC-F310BT is currently £649.99 although I note that it is available from Amazon for £569.45 including delivery.
You can find more details, although not full technical specs, on the Pioneer web-site: