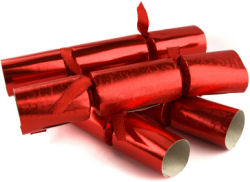 Christmas is closing in fast and to get you in the mood GadgetSpeak have launched a special festive prize-draw for November.
We have four very special GadgetSpeak Christmas Crackers. Each Cracker contains four different prizes.
Each week we'll pull one cracker. The contents of that cracker will go to that weeks winning member. You can see all the prizes on our special cracker page but, as with Santa's Sack, the contents of each cracker is secret. We'll tell you the content of the current weeks cracker as soon as you login!
Oh - we can tell you that the nice people at PhotoBox have included your choice of personalised Calendar or Photo Book - using your very own photos - in each cracker.
What are you waiting for? Not a member? Sign-up here, it's free. Already a member? Just login to enter