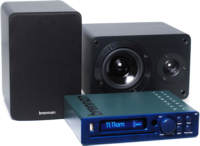 I know you're all dying to know!
The winner is...
kimmy who is from Northampton
If you didn't win - and I know a lot of you wanted to - then you still have the option of buying a JB7 directly from Brennan with a £20 discount using our exclusive GadgetSpeak offer.
Simply visit the Brennan shop, make your purchase and then enter the special code gadget08 at the checkout. This offer extends until the end of May 2008!

You can see all our winners on our special winners page.

This competition created a lot of interest. Partly I think because the JB7 is a very good idea very well executed, but also because in these days of ever increasing complexity it's quite refreshing for someone to stand up and make something simple that does not try to do everything.
May's competition? We're just finishing the copy - it'll be up very soon. Until then it'll be a surprise. Everyone that's already logged in this month is of course automatically entered!