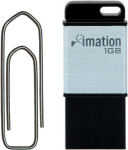 We were intrigued to see this small self-contained USB memory stick - as you can see the size of a paperclip. We've reviewed other small memory cards, but these often require inserting into an adaptor. Not quite as small as an atom - this tiny memory card is available in 1, 2, 4 and 8G byte variants.
The little hoop allows you to thread it onto a lanyard or otherwise secure what would undoubtedly be a very easy to misplace peice of technology.
Do memory sticks need to be this small? What do you think?