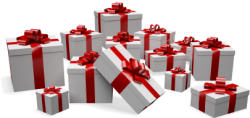 Difficult to believe we're already at day 10 in our 20 day Santa's Sack give away! It's getting more and more difficult to think of something witty, entertaining, coherent, intelligent and informative to say in the daily competition email (particularly as I'm sure most would agree I've not managed that in the first 10 days email!). Any suggestions on a post card - or just leave a comment down below!
Hope you're enjoying the competition so far - we've had some great prizes so far including the excellent 160G byte HDD video recorder from TopUp TV and the Myvu Media Viewer glasses that aren't even easily available in the UK yet.
The best is arguably yet to come though with the excellent Humax PVR, another chance to win the Top Up TV video recorder, the cool Chronos II DAB radio from Pure and of course, our top prize of the Polaroid Digital TV.
For a full list of what's still to be won, please check our special in Santa's Sack page!
Our winners page is also filling up nicely. We've still not heard back from one of our Logi3 i-station winners though - so please do check your email!