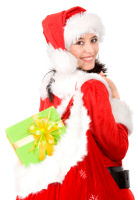 December is fast approaching - and with it our biggest members prizedraw so far. We've been working very hard to get everything sorted here at GadgetSpeak - and we're just about there. Now we all just need to catch up on the sleep we've missed.
Thanks to the various organisations sponsoring this competition we've managed completely fill Santa's Sack with some of the best gadgets we've seen this year. Most have been or are in the process of being reviewed - so you can read exactly what we thought!
We have 18 different products in the sack, including a star prize of a Definia Digital LCD television. You can see the full list on our Santa's Sack page.
There will be a separate draw each day for something in the sack, but to keep an air of suspense we're not telling you what prizes will be drawn on which day, not until the day at least! This is of course a clever wheeze to make sure you come back each day to see what's happening at GadgetSpeak. It does mean one of you is going to win the Teletubby phone dangler though!

Want to know more? Check out our Santa's Sack page and if you have any questions then jot them down below as a comment and I'll try and answer them!