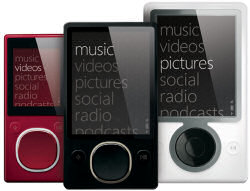 Microsoft's Zune media player has been a pretty low-key affair so far, making very little impact on the media player market and even less on Apples dominance of that market. Microsoft however plays the long game, and often wins! Remember how long and how many iterations of Microsoft's hand-held operating system it took to take down the Palm Pilot? Palm had almost 100% market share for a long time and virtually created the market.
New versions of the Zune are launched today. There are three additions to the range : a 4G, 8G and 80G byte model, coincidently the same basic capacities as the new Apple range. The whole range has WiFi built in so you won't need to physically connect to a computer to download. Apart from WiFi though they don't look particularly innovative. Have Microsoft been thrown by the new look iPod Touch?

As with most Microsoft products, the Zunes integrate with Windows, both to synchronize music and to share TV programmes you may have recorded onto your computer.

It looks like Microsoft are still experimenting though - with a launch in the US in November and no UK launch date, so no competition for Apple this Christmas!
It took years for Microsoft to effectively compete with the dominant Palm, but when it did - Palm lost out. Should Apple be worried? Post your thoughts below!