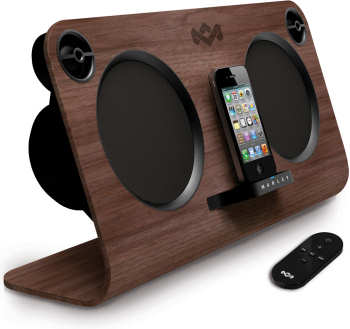 iPod docks are ten-a-penny now. What many of these products lack though is great, original design. And lets face it Apple's products are all about design. The iPod wasn't successful because it was a music player. It was successful because it wrapped all that clever technology up in a must have design. The House of Marley have stepped up to the mark with an original design that won't put your iPod/iPhone to shame!
The House of Marley "Get Up Stand Up" minimises plastic and brings wood back to the fore in home hi-fi design. The design is based around a curved birch wood panel with a walnut finish into which are set two each of 11.4cm woofers and 2.5cm tweeters which are backed with a decent power amp. The wood itself is sourced from sustainable sources (Forest Stewardship Council)
"We thought back to how people used to admire the large floor speakers back in the 1970s and 80s and how those speakers were design elements in the home..." said Rohan Marley, on behalf of The House of Marley. I can remember back to those times and yes - we used to put speakers on stands - making them part of the furniture.
Like many produces this system also has a 3.5mm jack so you can use other audio sources, but this is very much aimed at the Apple audience that want to show of that latest iPhone 5 they rushed out to buy!
The MARLEY "Get Up Stand Up" is available for purchase at HMV and other selected retailers for a RRP of £299.99: