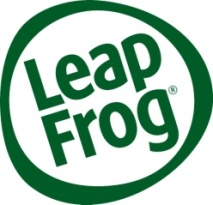 If the news is to be believed the ever increasing number of TV talent shows is leading a whole generation to dream of a future in front of the cameras or on the stage as a superstar. Lest we not forget that for every star of stage and screen there is a whole team behind the scenes doing a lot of very hard work.
It might be a little less glamorous being behind the scenes but no less rewarding to see the fruits of your labours on the big screen. To encourage the younger members of the family to get behind the camera, and to celebrate the success of its innovative educational gaming console and super cool video camera accessory, LeapFrog is searching for the best young directors in the UK, with one lucky short film maker in with the chance of winning a family trip of a lifetime to Florida.
The new competition is open to kids between the ages of four and nine, along with a little help from their families, can upload short (90 second) films to the competition site where they will be entered into the competition. The films have to be on the subject of "a family day out", and with the weather (hopefully) improving what better way to spend a warm spring day?
The competition closes on the 17th of April though so all you budding directors need to get out from in front of the TV and get the film rolling (OK - I guess there isn't a lot of actual film involved these days!).
A special judging panel will review the entrants and select the top-10 to attend LeapFrog's Short Film Festival premiere. Taking place on May 31st in the heart of London's bustling Covent Garden at the spectacular London Transport Museum (worth a visit in itself!). This is an amazing opportunity for young film lovers to see their own movie première at the cinema complete with red carpet and eager 'paparazzi' snapping away!
The winner will be announced on the evening after all the finalists films have been screened.
What are you waiting for - time to get out that camera and start to make some (short) movie magic! When you're ready here's the competition site!