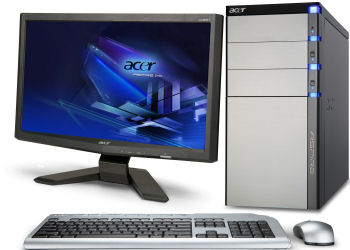 In Cannes, on the eve of the 63rd Cannes Film Festival, Acer announced its "cut" on the HD revolution. In particular Gianpiero Morbello, Acer Group Corporate vice-president Marketing & Brand pointed out that today's users are focussed on entertainment and socio-entertainment. Consequently, Acer and chip maker AMD have embarked on a marketing strategy focussing on user needs rather than the conventional approach of chips and speed designations.
Stressing that HD is "for everyone, anywhere, any time" he pointed out that, by 2013 some 91% of consumer traffic will be all forms of video including video-on-demand, Internet, P2P etc. Hence, the need is to simplify people's decision making process when they go shopping for a new PC.
There are basically three levels under the AMD "Vision" brand: Basic, Premium and Ultimate so that, without being blinded by science, the buyer will be able to focus on those PCs which are appropriate to his needs. The Basic is appropriate to those who just want to on line videos and DVDs; the Premium is for those who want to watch Blu-Ray or HD videos while the Ultimate is more suitable for those who wish to create music, photos or videos. There is also Black from AMD which is targeted at those really needing extreme performance.
At this extreme is the Acer Aspire M5400 series which employ AMD's Vision Black Technology. The combination of technology available has the potential to provide a level of performance well beyond the needs of the majority of users. However, there will be various permutations so that users can opt for the package that best suits their needs and expectations. It can incorporate the six-core AMD Phenom II X6 processor which, for example, is claimed to be able to organise digital libraries 40% faster, using facial recognition to categorise photos, than competing desktop PCs; full support for Microsoft DirectX 11; and ATI Eyefinity technology which can support up to 6 monitors.
Although not forgetting the needs of the majority of users with its Acer, Packard Bell and eMachines brands, Acer is really putting down a marker that, as well as making it easier to choose a machine, it can also meet the needs of the geeks.