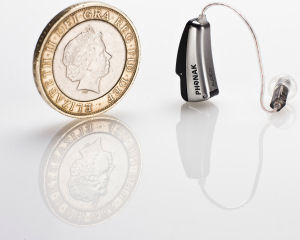 Following 200 years of development, from the conspicuous ear-trumpet to the cumbersome 'beige banana' Phonak have now launched what is claimed to be the world's smallest hearing aid - the Audéo MINI. This tiny engineering marvel is equivalent to the size of a jelly bean - and has now been launched in the UK.
The Audéo MINI sits virtually undetectable behind the ear and offers a discreet solution for the twelve million people in Britain that currently suffer from hearing loss. Today one in five adults has difficulties with their hearing and this figure is expected to rise to one in three by 2025*.
Audéo MINI's revolutionary design and unrivalled performance has just beaten more than 4250 products from 60 countries to win the prestigious red dot design award at the world's largest and most respected design competition. An international jury awarded the Audéo MINI the coveted top prize and will see it showcased in the red dot design museum in Germany.
The Audéo MINI's design was developed in response to a growing demand from the baby boomer generation, the young at heart consumers in their 50s and 60s, who want to boost their hearing to stay at their best but don't want to draw attention to a problem typically associated with ageing. According to experts, people currently struggle for 15 years on average before seeking advice!
Valentin Chapero, Chief Executive of Phonak who developed the device, says: "The Audéo MINI is a landmark development for hearing correction and the next significant advancement in hearing technology. Powerful enough to provide the user with crystal clear sound quality whilst small enough to sit, almost invisible, behind the ear."
The Audèo MINI includes state-of-the-art functions including the ability to automatically adapt to changing hearing situations and selectively focus on specific speech sources to reduce the distraction of background noise. Thetechology is also claimed to make it possible for the wearer to detect the highest frequency sounds such as bird song or quiet whispers, which are often the first to go when hearing deteriorates.
Visit www.phonak.co.uk for further information.
* Davis A. Audiovestibular Symptoms, Including Tinnitus, in the Ageing Population, ENT & Audiology news, 2009: 18(4):85-88