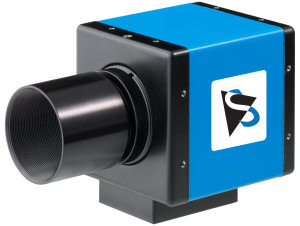 No - not the celebrity type - the twinkling kind!
We've reviewed many cameras here on GadgetSpeak but this one is a little different from those. Aimed at the amateur astronomer Imaging Source have launched a range of low-noise astronomy cameras using CCD sensors from Sony.The family includes sensors with resolutions of 640x480, 1024x768 and 1280x960 pixels and with either colour or monochrome capture options.
Each is equipped with a gigabit Ethernet interface allowing large quantities of live image data to be transferred quickly to a computer.
The cameras are controlled by PC software provided with the product that allow capture of single or multi-sequence images. The use of Ethernet for communication allows a highly affordable remote interface to the camera. The bottom of the camera has a standard tripod mount while the front lens nose-piece is threaded for a C/CS mount.
You can think of these cameras as top of the range web-cams especially designed to attach to your telescope and aimed at the amateur astronomer that wants to capture their observations for later analysis.
In Europe the cameras are available from Imagine Source on the URL below. Prices start at €440 for a 640x480 mono device. If distance isn't a problem then the family does include less expensive Firewire and USB interfaces, although with the latter bandwidth will be limited.