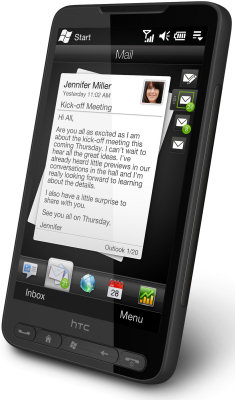 Yesterday saw the launch of Windows Phone - Microsoft's answer to the growing popularity of the iPhone and of up-and-coming open source phone operating systems like Google's Android, Symbian and Palm's WebOS. In reality and despite the hype this is not a new system from Microsoft but rather the latest upgrade to Windows Mobile - now at version 6.5.
Accompanying that launch is news from HTC of new handsets and upgrades to their existing range of Windows Mobile based phones. The HTC HD2 is new. A bright 4.3" touch screen providing access to the latest in Windows mobile software and a 1GHz 'Snapdragon' mobile processor from Qualcomm aims to provide the power necessary to avoid a sluggish experience.
The HTC Touch2, Touch Pro2 and Touch Diamond2 will in future ship with this software and upgrades may be available for existing customers.
Apple can be given a lot of credit for expanding the popularity of 'smart phones' - phones that can run a myriad of applications more generally associated with computers than phones - with their iPhone product. Until that time such devices had been primarily used for business and carried a hefty price tag. Apple can't of course take all the credit - improved technology has driven down the cost of cramming the necessary processing power into a small form factor at an acceptable price.
Attacking the market for a mobile business tool saw Microsoft offer Windows Mobile. It carried Windows compatibility as a hallmark and was aimed at keeping corporate IT departments happy - not end users! In the early days it was slow and never really gained the popularity Microsoft would have liked with those end users.
With the iPhone the market has changed and smart phones now have a consumer mass-market appeal and Microsoft wants a slice of that pie and hence yesterdays major Microsoft Phone launch. A multi-million dollar global marketing campaign to spread the word. Technically what they have launched is Microsoft Mobile 6.5 - the latest release of their existing software packaged to be something new. The news really is the push for volume. Deals with Toshiba, Samsung, LG and HTC will lead to a claimed 30 new devices equipped with Microsoft software by the end of the year. Some of these, like the HTC models, will be simply upgrades of existing Windows based phones. Others will be new.
Learning from Apple once more Microsoft hope to join the bandwagon for downloadable applications, a significant revenue stream for their fashionable competitor. Microsoft Marketplace takes on Apple's App Store. To compete though Microsoft has to attract developers - Apple already has over 80,000 applications. To attract those developers Microsoft needs the volume. Chicken and egg?
What's not in question is Microsoft's desire to take a slice of this market. They've competed before in new markets against stiff competition - just look at the XBox. Can they do it in the mobile market? We'll just have to wait and see!