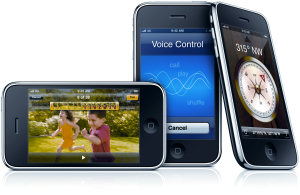 Image Courtesy of Apple
Hot on the heals of yesterdays news that Orange are to ship the Apple iPhone 3Gs we have news that Vodafone are to follow suit. You'll have to wait a little longer though - Vodafone won't be shipping until after Christmas. If you are a Vodafone customer though you can register your interest on-line. Orange expect to ship before Christmas.
In both cases this leaves around a three month delay before you can lay your hand on the iPhone. What impact will this have on the mobile market? Are you likely to delay signing up for a new contract until the iPhone is available? Could these announcements keep you loyal to your current provider?
Of course this does leave T-Mobile customers looking a little out in the cold.... but then again there's always tomorrow for yet another announcement.
Share your thoughts on the how this is likely to shake up the mobile market in the coming months by leaving a comment below!