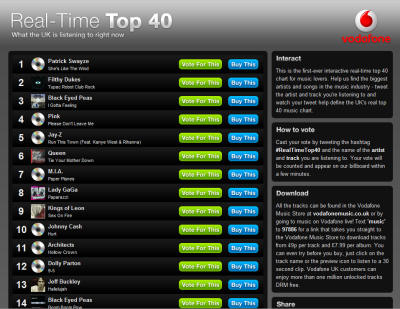 Vodafone have put together the first real-time music top 40 using Twitter to cast votes.
If you hear something you like all you have to do is tweet the hash-tag #RealTimeTop40 (if you don't tweet then that will mean nothing to you!) with the name of the artist and the track. Your vote will be automatically counted.
Of course voting is only half the story - you need to see what's currently popular. Vodafone have a special web-site for this : http://www.realtimetop40.com/
The results change as you watch. Looking at it now Patrick Swayze is number one with "She's Like the Wind". You can also vote your favourites up the list by clicking the Vote for This button which takes you to twitter with the tweet already filled in for you.
If you take a look at the GadgetSpeak twitter feed you'll see my vote for Pink - Please Don't Leave Me :-)
Naturally you can buy the tracks from Vodafone's on-line music store!
Obviously there are still a few people out there that don't use Twitter.... aren't there?