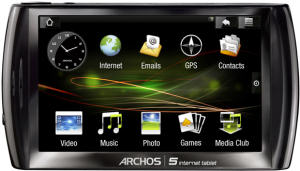 There's been plenty of rumours around a new Internet table computer from Apple - described possibly as a larger form factor iPod Touch. Archos have just announced their own product in this space - the Archos 5 Internet Tablet, and being from Archos it supports just about every media option you could want: audio, video, photos, FM radio and games to name a few.
Advances in technology allow more to be packed in less, and this is the case with the new Archos product. There are two variants, one providing hard disk storage between 160 and 500GB, the other flash based with between 8 and 32GB - the hard-disk version being slightly thicker and at 286g slightly heavier. Front dimensions are about 14x8cm about the same size as my Casio scientific calculator and so easily held in one hand. The display is a 4.8" touch sensitive 800x480 pixel TFT LCD panel that takes most of the front space.
Behind the scenes this device is one of a growing number of products now powered by Googles Android software, which in turn is a derivative of the open source Unix lineage - much as Apples OSX. A flexible, efficient full feature operating system which can be seen from the wealth of software shipped with the product.
802.11 b/g/n provides Internet access where available and Bluetooth will connect you with wireless headphones or other suitable devices. A built in FM transmitter will allow this product to play-back through your cars stereo system. For those situations where you don't have wireless access or want to provide bulk transfer you can connect via USB 2.0.
The system includes GPS and with the large display there's a good chance this could be an all-in-one solution for media and navigation in the car.
This Archos certainly looks impressive on paper - we'll bring you a full review when we manage to lay our hands on a sample!
Pricing from Amazon has a 30GB flash version for £244.77 and the 250GB hard-drive variant at £252.30, both including VAT and delivery. You can see other options here.
Full details are available on the Archos web-site.