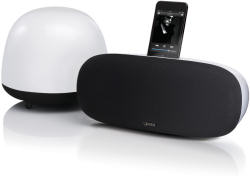 We've reviewed a number of products from Gear4 previously on GadgetSpeak so it's good to see them push their technology further with the SoundOrb Aurora. The new system is suitable for both iPods and iPhones and features a rather unique wireless sub-woofer speaker that you can place up to 30 metres from the base unit. This separate speaker adds a high-quality bass component to your favourite music tracks. Looking at the pictures this bass speaker also provides lighting effects synchronised to your music. It's a little hard to appreciate how this is going to look before we see it in action for ourselves!
With the prevalence of video now on the iPod range the SoundOrb includes a video-out facility allowing you to play back the your iPod stored video back on your main TV - particularly useful in the case of the diminutive Nano. The quality of the video will of course be limited in this scenario - compressed video optimised to look great on a 2" screen tends suffer when blown up to 32" proportions!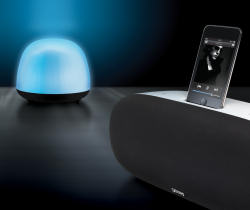 Once attached to your TV though it's a shame not to use the sound quality of the SoundOrb to enhance your main TV viewing experience. Gear4 have thought of this and so incorporated an audio-in connection to allow TV sound playback through the SoundOrb.
Gear4 are pricing the SoundOrb Aurora at £249.99 or €299.99 and should be in the shops from October - in time for Christmas!
We'll be bringing you a full review as soon as we can lay our hands on a sample unit!