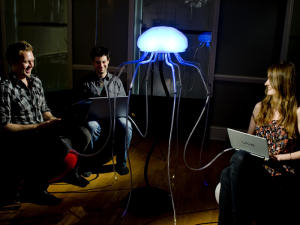 I don't know what your router looks like, but mine is the BT Home Hub, which is better looking than many, but not terribly inspiring. However, now the UK's largest broadbank provider TalkTalk has got together with artists at Goldsmith's College in London to tackle the creative question of how to make a router look beautiful. Well the result is a fantastic testimony to the wonderful design skills of our young art students.
Taking the design project to heart, the students at Goldsmiths have surpassed themselves, producing routers that are Objet D'arts in themselves. If only other products could be given the same treatment. My other alter ego is as a creativity coach, so I'm blown over by Talk Talk's approach to router design - proving we can see things differently.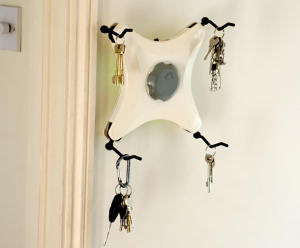 Here's a look then at the Route O'Clock. This 24-hour clock uses colour to create a picture of the varying signal strength throughout the day, so people can make the most of their internet connection. Complete with twenty-four glowing segments, the display indicates signal strength as time passes.
The Energy Saver is an intelligent router which switches off automatically when not in use. Team Goldsmiths' execution is based on house-key hooks; on when you're in, off when you're out. Plus there's an integrated timer for long downloads.
The Hybrid Router looks like a piece of 60's revival furniture, integrating router design into a hardwood side table. The team came up with a Hybrid Router that is a practical, sexy side table and a bold style piece, whilst still fulfilling its raison d'être as a fully functional router.
Finally, the funkiest of the four is the Jellyfish. This rather large unit looks like something out of Dr Who and has Ethernet cables for many to link up at the same time.
Sadly, you can't get hold of any of these routers yet. However, if you visit the Future Routers site you can vote for your favourite and you might just see it in the shops soon. As I write the Route O'Clock is ahead with 54% of the vote!!
I've seen there are some naysayers on the Future Routers site, but I say, go on - encourage our young artists - we need more design like this!
Visit Future Routers to vote.