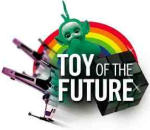 Kids of course have an excellent imagination when it comes to turning even the most mundane implement into a toy deserving hours of fun. Even a cardboard box can become an inter-galactic spaceship or a stage for a desirable residence for Barbi.
Argos want to tap into this wealth of young tallent and have launched a "Toy of the Future" competition. Open to anyone between the ages of 5 to 15 all they have to do is draw up their ideal new toy idea along with an explanation to what it is and why it's the best thing since sliced bread (or in this case the aforementioned cardboard box). Send the idea in to a special Argos competition site and they could win!
The winner will receive £500 worth of Argos vouchers and 10 runners up will receive a choice of toy, up to the value of £50 from the Argos catalogue.
Oh - and Argos will put the winning toy into production to be sold in their stores for Christmas 2009! Assuming the judges do a good job the winning design could be as popular as Barbi. If so then profits will be going to charity.
With a few days of half term still to go, and snow still on the ground what better way to keep the kids entertained?
Full details on the "Toy of the Future" web-site