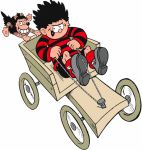 It's great, every now and then, to find a Christmas present with traditional values.
This week we found out about the special Denis the Menace Go-kart from the Children's Furniture company, made to celebrate The Beano's 70 Years of Fun. It's a very limited edition - only 70 have been made - one for each Beano year of Fun.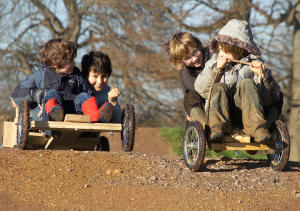 The go-kart comes in simple to assemble kit form and looks very much like the type of go-kart we might have had as kids ourselves. That was back in the days when Dads had time to make these things from scratch out of the pile of odd bits of wood out back - only this one should only take around 30 minutes to assemble!! The Denis the Menace Go-kart has an adjustable seat so all the family from the youngsters to the young at heart adults can play together.
If you want your kids out in the open air this Christmas, playing like we used to, then have a look at this lovely product at www.thechildrensfurniturecompany.com . Price £195.