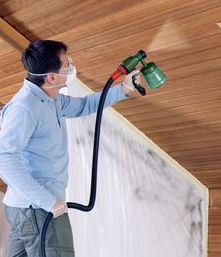 In these turbulent times, Bosch suggests that we improve our homes if we can't move. We're hoping to review these products in the Spring, but thought readers would like to know about them now - we know how popular home improvement tools are in the run up to Christmas.
Bosch have a range of home decorating Spray Paint Guns which use their low-pressure "Spray Control Technology" to produce a fine paint mist. Bosch tell us that this speeds up the drying between coats, is 3 times faster than a paintbrush and saves you money by using 15% less paint. Sounds good!
The new Bosch PFS 105E is designed for spraying internal rooms as well as large outdoor surfaces.
The new Bosch PFS 55 is a hand-held system for small to medium spraying tasks, such as furniture or even wooden toys.
Completing the spray gun range is the PFS 65, which became available for the first time this Summer. It's a compact, portable and light weight system for medium sized projects such as larger pieces of furniture, garden fences or sheds.
The Bosch PFS 65 is already in-store and the PFS 55 and 105E will be available at B&Q from 6 October 2008.
The PFS 65 is also available online at:
http://www.tooled-up.com/Product.asp?PID=152634
Prices frange from £59.99 to £139.99 including VAT. For further information call: 0844 736 0107.