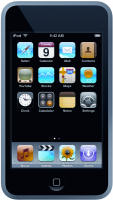 We're more used to giving out prizes than actually winning anything ourselves here at GadgetSpeak. With our monthly prize-draw, we're used to making one lucky member happy each month (and sometimes more than one!)
It was a little bit of a surprise then when a sparkling new iPod Touch arrived on the doorstep a couple of days back. My initial assumption was that someone had arranged a review sample - a quick check around the office however showed this not to be the case.
A hunt back through my emails found that I'd been entered into a prize-draw for completing a survey about a month ago. Entering competitions isn't something I do often and I'd completely missed this one somehow.

I now have a *very* smug grin on my face - and a shiny new toy that no doubt will see great service helping me review various iPod accessories over the coming months. I will of course post a full review of the iPod Touch itself once I've had a play :-)
Initial impressions are good - and my Sony PSP is looking positively clunky.

There are only a few of days in this months prize draw - so if you've not yet entered then you need to get your skates on! Members - you just have to log in. The rest of you just have to follow the instructions!