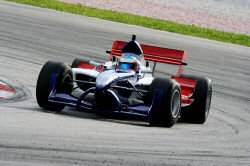 You could do with GadgetSpeak. After the success of our first two months members competitions we have something rather special, and a little different for October.
Nero are sponsoring this months competition to coincide with the latest release of their excellent Nero 8 suite - read the review here!

The lucky winner for October will have a choice. There wasn't a lot of room to describe the prizes on the login page, or the registration page so I thought I'd do so here.
Nero are also offering two runners up prizes of copies of Nero 8.
Formula One Experience
If chosen by the winner, the culmination of this days event will be the chance to drive an ex-Formula One racing car around a race track. That's only the highlight of the day though.
Before that you'll be driven around the track in a hot hatch or sports saloon by an experienced driver. I was lucky enough to do this a few years back and it's quite an experience to see just how fast some of these 'standard' cards can go, and the best way to take each turn.
Next it's your turn - driving either an MG, Ferrari 911 or a Porsche - with your instructor sat next to you offering tips and advice.
As long as you do well in that - you get to take the F1 car for a spin!
What more could you ask for? Well - just to complete the prize, you'll be offered accomodation for two and dinner!
Aston Martin AMV8 for the weekend
Be the envy of the neighbourhood with this little beauty sat on the drive. You could leave it there for the whole weekend, but we think you'll probably find somewhere to go.
You'll have the car for the best part of four days - from Friday morning through to Monday afternoon. Where would you go?
Whichever prize the eventual winner chooses, we're sure they will have a lot of fun!