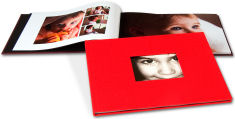 Photobox Photobook
We have a great prize, worth over £200 this month thanks to Photobox.
First of all a reminder - to enter you have to be a member (free - just complete this form). If you are a member you have to login at least once during the month. Not logged in? Just click here! Remember to check the terms and conditions on the registration and log-in pages!
Photobox
provide on-line photographic services suitable for anyone with a collection of digital photos. Digital cameras are great for capturing that special moment be it wedding, birthday party or the latest addition to the family. Ease of use in taking those pictures is however countered with a tendency to leave them on the computer - getting prints is a pain. You can print them yourself (but a decent printer and ink is expensive) or burn them to CD and walk them into town.
Photobox provides an opportunity to match ease of taking pictures with ease of creating prints - and a whole lot more. Upload your images to them and they will print them in a variety of formats and on a variety of materials from standard photo paper to high quality canvas and even onto cushion covers!

Our GadgetSpeak June winner will have the opportunity experiment with their photos with the following excellent prize :
Canvas Print
We've all got some special photos stashed away on our computers these days and this is a great opportunity to display the very best. The canvas is great for that really exceptional or memorable photo - maybe a wedding, Christening or other special occasion. The photo books are great to have on the coffee table or to share with friends. They also make excellent gifts for grand parents and other family members!
We'll have our own full review of the service published shortly - but in the meantime take a look on the PhotoBox web-site.
UPDATE : You can now see what our intrepid reviewer made of the Photobox service herself - read the Photobox review here.