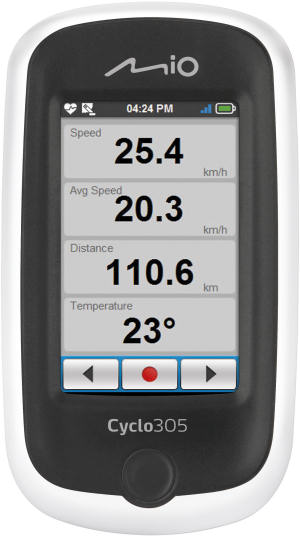 Being a little lost in a car isn't usually a huge problem as long as the petrol gauge isn't hovering at, or just below, empty!
Being lost on a cycle though can be more of a problem, especially if you've been cycling all day and really just want to get home.
Sat-Nav on a cycle then makes a lot of sense, especially if you're out and about in unfamiliar territory.Mio Technology have just launched two SatNav devices targeted directly at the cyclists amongst us - the Mio Cyclo 300 and the Mio Cyclo 305. Out of the box these have maps installed and are ready to use.
Maps are just the start of what these devices can do however providing much more than just help when you're lost. When you've been travelling the country under peddle power there are a whole slew of stats that can give you that warm satisfied feeling that you've done your body good! The Mio Cycle products can not only tell you how far you've gone, how fast you went, how high you got (I'm assuming here that's altitude they mean!) it'll also tell you how many calories you burnt in the process.
The Mio Cyclo 305 adds to the 300 by including an ANT+ sensor that will connect with heart rate monitors and wheel sensors allowing additional accuracy.
Prices are as follows:
RSP Mio Cyclo 300 with Regional Maps £249.00
RSP Mio Cyclo 300 with Western-Europe Maps £299.00
RSP Mio Cyclo 305 with Western-Europe Maps £349.99
They should be in the shops from April so do watch out for them!