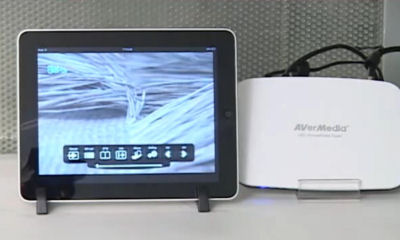 OK - this isn't the first time you've been able to watch TV on your computer, in theory at least. There have been TV tuner cards available for many years and we've reviewed a good number of them here at GadgetSpeak. The biggest weakness with these systems has been the quality of the TV signal. In the days of analogue TV you could just about get a fuzzy noisy picture. Now we're in the 'improved' digital age with DVB (Freeview) even that's not possible. Digital means binary which in turn means good signal: watchable TV, poor signal: no TV. Nothing in between.
For desktop machines it may be practical to connect to a traditional external TV aerial. Most of us though have a laptop. We don't want bits of wire sticking out the end we just want to watch TV unencumbered.
AVerMedia have come to the rescue with their HomeFree Duet network-attached TV tuner and we think they're onto a winner! Much like your network attached printer or your games console this cool little box sits quietly in the corner near your TV aerial, receives and decodes the available stations and then retransmits these over your home Wifi network. There are two completely distinct tuners in the system allowing two users to watch two different programmes.
AVerMedia is understandably pushing this product as a solution to "TV on you iPad" however video can be streamed to Windows 7 Media Center and to their own AVerTV 6 HomeFree software. Given the number of laptops in the world compared to iPads at the moment there are a lot of people that could use this product right now.
Full details are available on the AVerMedia web-site. Price is expected to be £149.99 and it will be available from Amazon and I'm sure other retailers around mid-December.