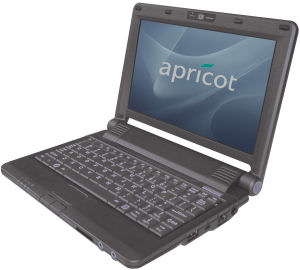 For those of us old enough to remember Apricot of yesteryear you'll remember a range of innovative, high quality computers with carefully thought out designs (leave us a comment with your own recollections!)
The name disappeared from the UK retail market some time ago with the brand being bought by Mitsubishi. That's all changed now as Apricot returns as an independent UK company once more launching the PicoBook Pro - a competitor in the burgeoning sub-notebook market.
I had a peak at the new product last night and it does look good. Rather than some other competitors Apricot have developed a well specified laptop in a very small form factor. Key features are 60GB hard disk (enough space to actually store your work), 8.9" display, sub 1Kg weight and with a usable keyboard. Battery life is also a usable 4 hours.
To quote Shalid Sultan, CEO of the new Apricot "Many offerings in the sub-laptop market are missing the point. A mobile PC user fundamentally wants to be able to connect to the internet whenever and wherever they are and to be able to use it for a prolonged period of time, without needing to charge the batteries. We have created a PC that is truly mobile and - despite its high quality credentials, functionality and look and feel - it is also affordable."
You can buy the PicoBook pre-installed with either Microsoft Windows (£328) or with SUSE Linux (£279).
We do of course hope to bring you a full review of the PicoBook Pro as soon we can lay our hands on a sample! In the meantime there's lot of information on the Apricot Web-site :
http://www.apricotcomputers.com/
With the recent demise of Evevsham it's great to see ths UK brand making a comeback.