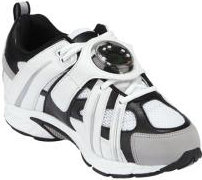 OK - it doesn't quite think. This new range of training shoe though does include some hi-tech enhancements you won't find in the average footwear. Much of the technology is in the right hand shoe.
To start with the sole of that shoe includes a sensor that can measure both how fast you're moving and how much weight you're pushing down through your shoe. Of course sensing that is one thing - you then have to do something with the information. This is handled by a small controller with an LCD display that's mounted on the top of the shoe (over the laces).

The controller combines the sensor information with vital stats such as your age, weight, height, gender that you enter when you configure the device. From this the system accurately calculates the number of calories you're burning during your exercise.
The manufacturers, Airun, claim that watching your calorie burn has several benefits. Firstly you can make sure you're burning enough calories to maintain, or attain your desired fitness level. Secondly you can see how your calorie burn increases as you get fitter.
If you do plateaux then the shoe has an additional trick up it's sleeve - weighted inner soles. Two are provided, a light option at 100g and a heavy one at 588g. When combined with the weight of the trainer this will give you almost 1Kg per foot. I must admit that as a runner I'm not sure about the idea of lifting that much additional weight with each step, but it would definitely increase the amount of energy you burn.
This technology does come at a price though - the recommended retail price being £125.
Do they work? I haven't tried them so right now have no idea (of course, any readers that have a pair, please leave your comments below!).The concept certainly sounds interesting for those people that enjoy minutely watching their performance, that need the additional motivation of knowing they are doing themselves a lot of good, or simply wish to know when they have successfully burnt of that cream tea!
If I'm feeling up to it and manage to lay my hands on a pair I'll report back with a full review (wish me luck!).
More details on the Airun web-site